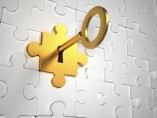 During a flight from Ireland, Jill was approached by a flight attendant who commented on her "peculiar" method of knitting (the awkward Continental method). This lovely woman then showed Jill a method of knitting completely different from anything she had ever seen: the right needle, held like a pencil, works the yarn like a shuttle while the needles stay perpendicular to each other.
Upon returning to the U.S., Jill sought out materials to expand her knowledge of this unusual way of knitting; however, no materials about this method existed. So Jill, herself, created techniques for knitting this way. And while perfecting this method, she began to find more enjoyment from knitting than ever before. The movements were easier and quicker, and as relaxing as meditation. And because the needle seemed to take the exact amount of yarn it needed, there was none of the stress or anxiety sometimes associated with traditional knitting. And low and behold, the Knitting Pretty Method was born!
Jill's passion for knitting grew even as she continued working as an actress. She brought her knitting to movie sets and comedy clubs, amazing onlookers with her speed, consistency, peacefulness, and joy. Jill began teaching other actors how knitting could help them handle the constant rejection of show business. She became a popular knitting instructor in New York and London, and a hand knitter for Baby Gap.
Still, Jill yearned to enlighten everyone about her method-the easiest, fastest, most relaxing way to knit-that also offers the spiritual benefits of yoga and meditation. So she summoned all of her talents and created a series of instructional videotapes and DVDs that are fun to watch and easy to follow. Now millions of new and experienced knitters alike can reach that peaceful, "knitatative" place where all is good!