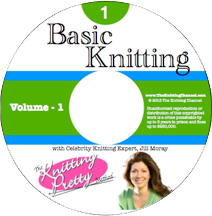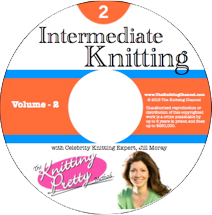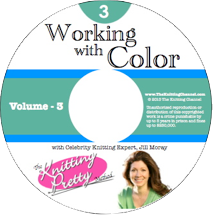 Volume 1: Basic Knitting
Learn the breakthrough Knitting Pretty Method!
Plus:
Cast On
Bind Off
Knit
Purl
Garter stitch
Stockinet stitch.
Knitting Project:
A hip scarf using two different stitches
$14.95
Volume 2: Intermediate Knitting
Building on the lessons of Volume 1,
you'll learn more advanced techniques:
Learn:
Ribbing
Double Ribbing
Binding off in Ribbing
Increase Stitches
Decrease Stitches
Fixing Your Mistakes
Knitting Project:
A warm and cozy hat
$14.95
Volume 3: Working with Color
The world is full of color! Learn how to incorporate colorful patterns and designs into your knitting.
Learn:
Vertical Stripes
Horizontal Stripes
Intarsia Technique
Fair Isle technique
Following a Color Chart
Making Yarn Bobbins
Knitting Project:
A colorful Pillow Top using the Intarsia Technique and yarn bobbins.
$14.95
SPECIAL DEAL – buy all 3 for only $39.97 !